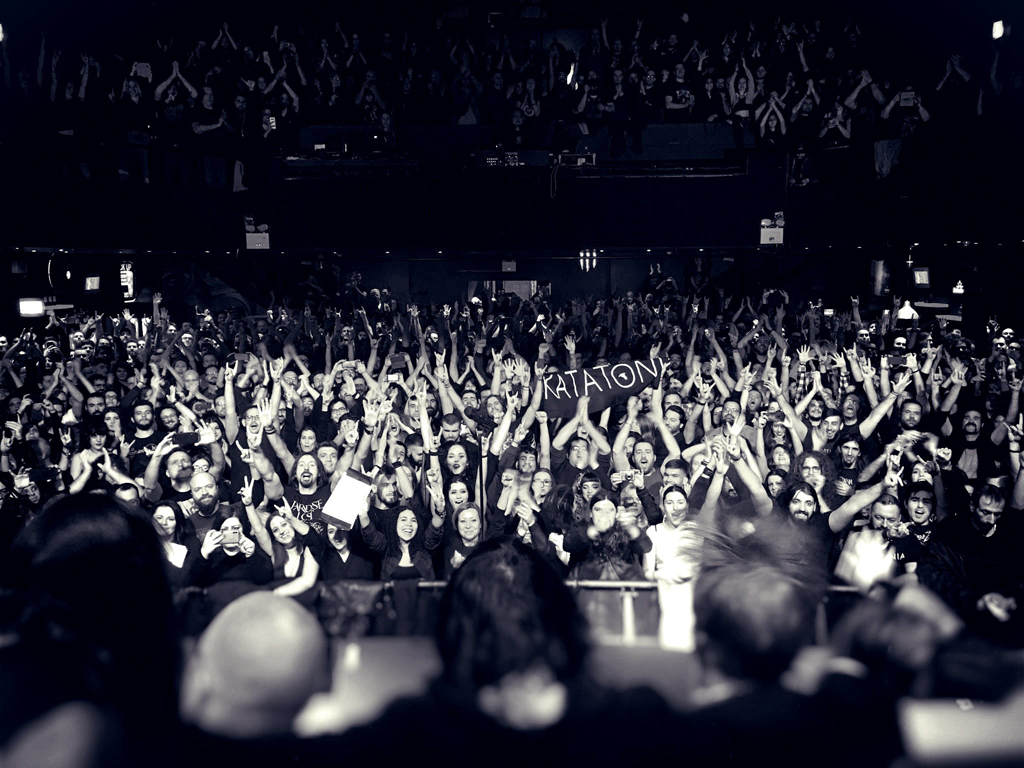 "In days and nights of black and silver, the dead end king will come. From pieces of broken mirrors there will be a crown bestowed upon his head. In reflections of shattered glass not only the seasons will turn, but also the change disguised by the lapse of time. His mind will have to come to bear the weight of everything that was left behind and forgotten. Archiving the inaccessible. Celebrating the abandoned and mourning the destroyed. The city burials." (Anders Nyström, Katatonia)
Revered masters of melancholy for nearly 30 years, Katatonia have always pursued a profound emotional connection with their music and those who listen to it. Formed in Stockholm in 1991 by now vocalist Jonas Renkse and guitarist Anders Nyström, this most free-spirited of modern metal bands have taken a slow and steady but endless fascinating journey from primitive beginnings in the extreme metal underground to their current status as darlings of both the metal world and the progressive rock scene.
From early attempts to channel their sorrow like seminal 1993 debut Dance Of December Souls and its much lauded follow-up Brave Murder Day (1994) through to post-millennial masterworks like Last Fair Deal Gone Down (2001) and Viva Emptiness (2003), Katatonia's ever-evolving sound and utterly unique atmospheric identity has cast its spell over generations of music fans, culminating in a recent run of flawless records and ever-more celebrated live performances that few modern bands could hope to match. Most recently, the Swedes' tenth full-length album The Fall Of Hearts (2016) was universally acclaimed and seemed to herald a long-deserved surge of popularity and prominence: acknowledgement, perhaps, that Katatonia have clicked into yet another higher gear.
But for all the momentum generated by their story so far, the band surprised their legions of admirers by taking an unexpected break from Katatonia, following the conclusion of the last album's tour cycle. Joyously, 2020 brings the news that they are not only back, but newly armed with arguably their finest album to date, the enormously vivid and powerful City Burials.
"After the whole tour cycle was over, we decided to have a little bit of a break," explains Renkse. "It was the first time we'd ever done that with Katatonia. We'd been doing the band for such a long time we thought we might all focus on something else for a while, to see if we still have the drive and the hunger to do Katatonia. As it turned out, we all missed it very much. It's been a good thing, because it really showed us that Katatonia is a very crucial part of our lives and we need to move forward with it."
Although diehard fans will instantly recognise Katatonia's amorphous but unmistakable atmospheric imprint, City Burials is yet another example of how this band are in an exhilarating state of perpetual evolution. This time round, Jonas Renkse has written the vast majority of music and all of the lyrics, resulting in a record that is perhaps even more personal to the singer than previous efforts. Nonetheless, he assures us all that the band's collaborative instincts are as strong as ever.
"Actually I had the ideas for this one. It's hard to explain, but it has never been like, 'I want you to write five songs and I'll write five songs!'" he laughs. "It's more down to whoever is creative during that particular period and who's not. Anders, this time, didn't write very much, but he's been at my side at the production helm to make sure everything is right for the band. We still have very good cooperation within the band, even if I wrote all the music for this album."
The proof of Jonas and Anders' enduring artistic bond is displayed throughout City Burials' absorbing 58 minutes of meticulously crafted melodies and inspired, idiosyncratic arrangements. From the spine-tingling dynamics of opener Heart Set To Divide through and the simmering menace of Lacquer to the wildly evocative sorrow-scapes of City Glaciers and the exquisitely delicate Vanishers (featuring a guest vocal from Anni Bernhard, of Stockholm art rockers Full Of Keys) Katatonia's eleventh studio album is a showcase for a partnership that was magical from the very start. Recorded at three different studios, with vocals being recorded at Jonas' own home studio, and produced by the band themselves, City Burials is both a reaffirmation of musical values and a brave leap forward.
"Whenever me or Anders come up with something that is in the Katatonia frame, it's always going to end up sounding like Katatonia, even if it's a side-step or an unexpected musical turn – it will always end up sounding like something very natural," Jonas notes. "I think it's because our relationship goes back many, many years and we've known each other for such a long time. We've collaborate musically since we were kids, basically. So we know exactly what to expect from the other person, and we know what to add to each other's ideas to make them even better. We totally trust each other."
Beyond their core creative duo, Katatonia are very much a full-blown band, and the chemistry between Jonas, Anders and their band mates – bassist Niklas Sandin, drummer Daniel Moilanen and most recent recruit, guitarist Roger Öjersson – has never sounded more potent. As Jonas points out, City Burials is the first album Katatonia have made since Öjersson became a full-time member, and his contributions have been extremely significant.
"Roger started playing with us right after the previous album was mixed. He actually did a couple of solos on that album but everything else was already recorded when he joined the band. So it means he's been with us for about four years and this was the first album he actually played on. It was really nice to have a full band with two guitar players again, and also having his expertise in the studio, because he's a really good guitar player."
Inspired by an injection of fresh blood into Katatonia's creative brew, City Burials is an album that sees the band reclaim part of their heavy metal roots, via several moments of exuberant, old school classicism, deftly woven into these new songs' kaleidoscopic fabric. Although songs like Behind The Blood and Rein are as heart-rending and immersive as any in Katatonia's illustrious catalogue, it is both a surprise and a thrill to hear the band throwing caution to the wind and kicking some serious ass, albeit in moderation…
"Maybe it's a little bit unexpected for us to do that, but it's something that we wanted to play around with a little bit," Jonas grins. "We're not the youngest guys anymore and we all grew up with heavy metal music. On the last tour we did, we played a Judas Priest cover every night, Night Comes Down, and it was so fun to do it, we thought that maybe we should have some '80s heavy metal stuff thrown into our music for the hell of it and see how it works out. I think it works really well. it's something that we'll probably enjoy doing live, that kind of riffing and the solos. It'll be fun to take that to the stage."
The music on City Burials may boast some of Katatonia's most direct and explosive moments to date, but these songs dwell firmly in the band's perennially enigmatic and ill-defined conceptual world, wherein the power of emotions – of loss, of love, of sadness and joy – are always too overwhelming for specifics or prosaic declarations. Instead, the thematic red line that runs from Heart Set To Divide through to Untrodden speaks of the intensity of fragile emotions unsettled by the passing of time.
"Because we're both from Stockholm, we grew up here and we explored it when we were younger," Jonas explains. "We don't know all of it but certain parts of this town are very well known to us. I was thinking about it once when I was walking through where I used to live when I was a kid, and I started thinking that I had so many memories from certain streets or even specific houses in this particular part of town, and I thought that everything that's a memory now feels somehow buried. Every memory is a loss, in a way, because it's something you can't grab anymore. We're reaching that age where the end of life is within our reach, so maybe you start thinking about the things you've seen and experienced."
As Jonas notes with a wry chuckle, City Burials is "not a comeback!" Katatonia simply took a breather and subsequently realised that their shared urge to make extraordinary music had, if anything, intensified over the years. The result is an album that looks certain to push the band ever further into the spotlight. With grand plans for extensive touring around the world in support of their latest and perhaps greatest album, Katatonia are wringing fresh hope from life's gloom-sodden tapestry. And it sounds incredible.
"We're very excited to present this album to the world," Jonas concludes. "I guess people from our generation are still waiting for great albums, they still have the attention span for it. But even with my own kids, it's very different these days. They just listen to the same songs over and over again. The album as a concept is unknown to them. But you have to respect that as well. We can't change that. But hopefully if people hear a song on this album and they like it, they might try a few more!"
Website: http://www.katatonia.com/
Facebook: https://www.facebook.com/katatonia/