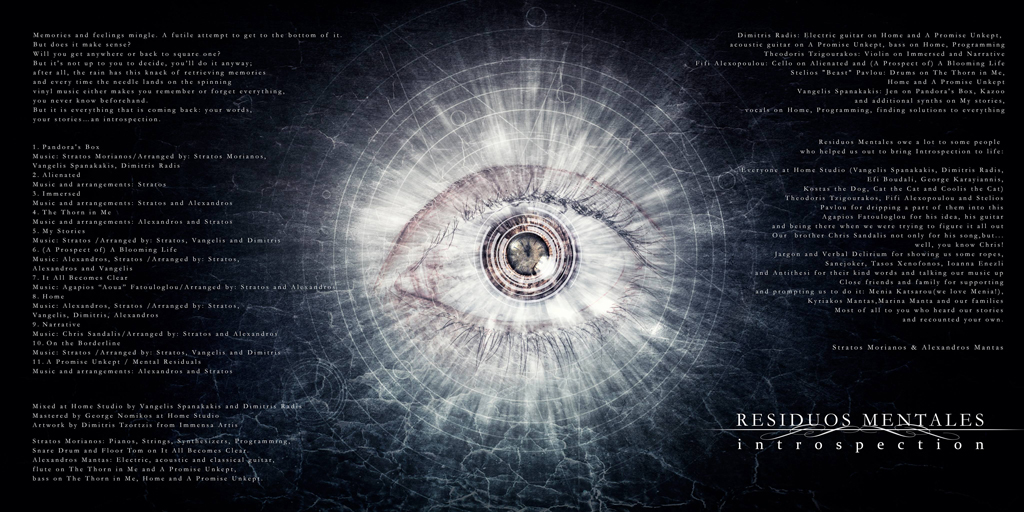 Residuos Mentales is a studio project from Athens, Greece consisting of Stratos Morianos (keyboards, also member of Verbal Delirium) and Alexandros Mantas (guitars, flute) which was formed back in 2012. After putting together material intensively for four years, they ended up with abundant instrumental stuff, part of which was included in their debut album entitled "Introspection". Cinematic music coupled with elements from Greek music, 70s progressive rock, electronic and anything else they deemed that would work well found its place in this endeavour, inclined to throw more additions in the mixture down the line.
The general idea of Introspection
Memories and feelings mingle. A futile attempt to get to the bottom of it. But does it make sense? Will you get anywhere or back to square one? But there is no need to think about it because you'll do it anyway, after all the rain has this knack of retrieving memories and every time the needle lands on a spinning vinyl, the music either makes you remember or forget everything, you never know beforehand. But it is everything that is coming back, your stories…an introspection.
And a few more details…
Introspection is a nearly 38-minute track in 11+1 sections (if you take a closer look at the cover of the album where the twelve hours of a clock feature…) that tells the story of a man who is tortured by memories of the past. The inner voices are let loose (Pandora's Box). The rainy day exacerbates the gloominess (Alienated) and the character spins a vinyl. "With the right music, you either forget everything or you remember everything" they say and the case is that memories come in torrents (Immersed). Οld, nagging recollections (The Thorn in Me) resurface and finally the character is sucked by a whirlpool, recounting their life (My Stories). The optimistic prospect (A Prospect of a Blooming Life), the feeling like "coming home" (Home) is gradually replaced by vague, forgotten, yet ever-present memories of loss and disappointment that get clearer and clearer in their head (It All Becomes Clear) and recounting these stories (Narrative) brings our character to their limit (On the Borderline) who makes a promise to set everything right but "you can't escape the past, no matter how much you want to" and the mental residuals in their head prevent them from keeping their promise (A Promise Unkept/Mental Residuals).
In "My Stories", the center-piece of "Introspection", feature lines from the movie "The Words".
Links:
Facebook: https://www.facebook.com/residuos.mentales/
YouTube: https://www.youtube.com/channel/UCi9mnY84oIElt2hLIXM0q0Q
Spotify: https://open.spotify.com/album/0NhHCYv4TBP5JcD9qDkuXQ#_=_