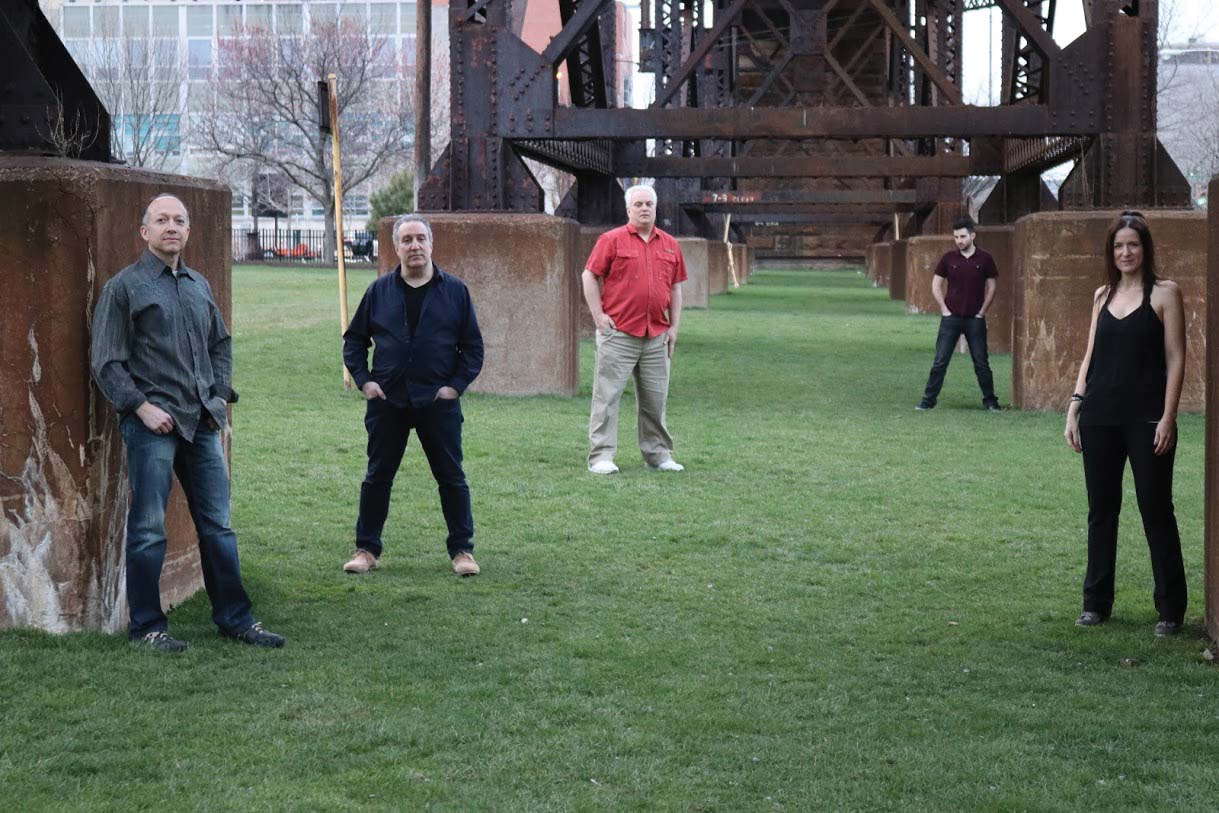 Shadow Merchant is an original progressive rock band based in Philadelphia.
With years of combined experience, and with influences ranging from Rush, Kansas, Spock's Beard, Porcupine Tree, Yes, and Dream Theater to King Crimson, the Beatles and more, Shadow Merchant brings their unique brand of progressive rock to the music world.
Shadow Merchant got its start in 2007 when radiologists Dr. Sean Reiter and Dr. Paul McGinnis, while working in the same practice, discovered their mutual affinity for prog rock. Both were experienced musicians. Guitarist Reiter had been in a band that opened for one of his favorite groups, Kansas, while McGinnis was a longtime drummer with a style reminiscent of Rush's Neal Peart and Dream Theater's Mike Portnoy. The two radiologists began to rehearse together, and before long, they began developing original songs. Still, they needed more members to turn their duo into a full band.
Reiter asked a friend who was involved with music if he knew anyone who: a) played bass b) could take on lead vocals, and, of course c) loved the prog! It turns out, his friend did know someone—his son-in-law, Howard Whitman, another prog devotee who had an extensive background as a professional musician.
Two became three, and then another friend of Reiter and McGinnis joined on keyboards. By 2008, the first incarnation of Shadow Merchant was born, with the band's name derived from an antiquated term for radiologists.
When the keyboardist decided to move on, the now-trio set about finding a new fourth member, and after a series of auditions, met up with New Jersey-based keyboardist Donald A. Henney Jr. With his musical talent and mastery of keyboard technology, Don was the perfect missing link the band was looking for.
By 2011, Shadow Merchant was playing professional gigs, starting at Northeast Philly's famed Whisky Tango nightclub. In November of that year, they were invited by NYC-based InsideOut recording artists Jolly to join the bill of a night of prog rock at The Legendary Dobbs in South Philly. Another highlight was a show at Philly's legendary North Star Bar in early 2012.
Later that year, Philadelphia classic rock radio station WMGK introduced a new contest, Rock MD, a competition for local groups that had medical doctors as members. Shadow Merchant was named a finalist in Rock MD 2012 and played at the Keswick Theatre (former site of RoSfest) on 10/11/12.
2013 saw the band return to The Legendary Dobbs, and play at other venues including Philadelphia's World Cafe Live. Shadow Merchant was again named a finalist in the 2013 WMGK Rock MD competition and returned to the Keswick stage on 10/09/13.
On May 2, 2014, Shadow Merchant had the honor of playing the Friday night after-party at RoSfest- the annual 3-day international progressive rock festival held in Gettysburg, PA. The show was a tremendous success and helped to spread the word about their debut album, "the tunnel", released the same day.
2014 also brought a new addition to the band. After performing with the band as a guest singer on stage at the World Cafe Live, Yvonne Blackwell was asked to join the band as a permanent member. Yvonne's soaring vocals bring a new dimension to the band, with a broader vocal palette now possible with an additional lead vocalist.
2016 was a year of significant changes. Paul McGinnis relocated to California, and Don Henney left the band to dedicate time to his solo project, Neutron Moon. After several months of auditions, Shadow Merchant welcomed two new members. David Lee joined the group on drums, and Michael LaBuono joined the group on keyboards. The two are excellent additions, both bringing enthusiasm, experience, and great chops. The band is currently deep into working on their next album, which looks to have even more energy and dynamics given the band's continued growth.
The new album Tomorrow was mixed by Brett Caldas-Lima at Tower Studios in Montpellier, France. Six of the album's songs (including a 20-minute suite comprising six shorter pieces) were written by Reiter, with the remaining two written by Whitman, although all five members of the band contributed to the CD's production and musical arrangements. "We're extremely proud of what we accomplished with Tomorrow," Reiter stated. "Everyone performed at peak level, and the quality of production we achieved with Brett is nothing short of astounding. We feel this CD represents a huge leap forward for the band, and the early reactions we're getting from our fans and the music community indicate we're not alone in this belief. While The Tunnel will always hold a special place in our hearts, Tomorrowrepresents a great new beginning for the second incarnation of Shadow Merchant."
Website: www.shadowmerchant.net/
Facebook: https://www.facebook.com/ShadowMerchantBand/