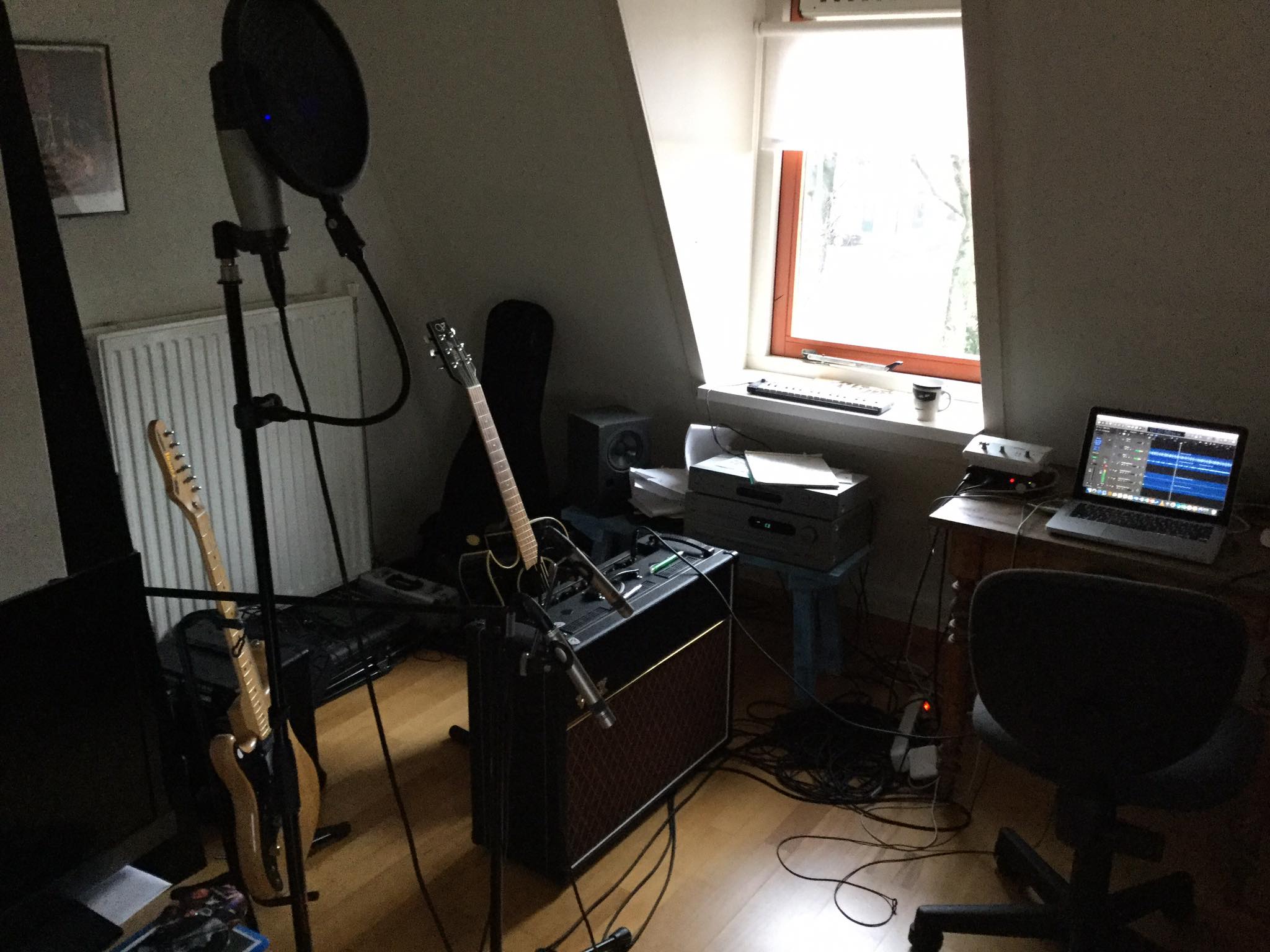 The origins of Fractal Mirror can be traced back to the mid-eighties when three friends from Amsterdam started to make music together influenced by bands from the famous 4AD label and artists like David Sylvian. At the same time a new wave of progressive rock was expanding its listening audience. Bands like IQ, Pendragon, Twelfth Night, Marillion and Pallas but especially the virtually unknown Canadian band Terraced Garden have been a big influence on Fractal Mirror music.
Fast Forward to 2012:
Two of the original members are still working together but the musical focus has shifted towards contemporary pop/rock music with progressive rock influences. Via Facebook a drummer from the States is found and after working out recording logistics through some demos the band decides on the name Fractal Mirror. At the end of 2012 tracks were recorded at home for a CD. The drum tracks were recorded at a studio in New Jersey in the summer of 2013. These tracks were then mixed and mastered in August at the Autumnsongstudios in Trondheim, Norway by Rhys Marsh from Rhys Marsh and the Autumn Ghosts (recently interviewed in Classic Rock Presents Prog). Our music has been played on many of the leading progressive radio stations to a very positive response. As our ability to collaborate across the ocean improves and we share our musical ideas online, look for Fractal Mirror to release some new and exciting music in 2013 which will continue to demonstrate this variety of influences in an increasingly original blend.
2014:
Garden of Ghosts is released in November, 2014 to overwhelmingly positive response, receiving feature airplay and special full length album previews on many fine internet sites. See our REVIEWS page for a recap of the reviews. We also made many Best of the Year lists as well.
2015:
Slow Burn 1 is released to excellent reviews.
2016:
Fractal Mirror becomes a two-member band as Ed decides to take a leave of absence. Brett Kull agrees to add bass as
well as his guitar and keyboard contributions.
2018:
Bad Elephant Music is delighted to announce that internationally renowned progressive rock band Fractal Mirror is joining the family for the release of its new album, 'Close To Vapour', in early 2018.
For this, their fourth album, core members Leo Koperdraat and Frank L. Urbaniak are joined once again by Brett Kull (of Echolyn, and producer for label-mates Valdez) and founder member Ed Van Haagen guesting.
"We're extremely pleased to join the diverse Bad Elephant Music family", said Frank. "We are confident that together we'll be reach a wider audience with 'Close to Vapour'. For us this reflects a dramatic step forward in both composition and production, and we're grateful for BEM giving us this opportunity, and for the confidence they've shown in us".
David Elliott from Bad Elephant had this to say: "I've been a keen follower of Fractal Mirror's music since 'Strange Attractors', their first album, and we've been talking over the last couple of years about working together. The stars finally aligned after I met Frank at RoSfest this year, and with 'Close To Vapour' they've produced their finest work yet. We're proud to be associated with the guys, and delighted to be once again working with Brett!"
Website: http://www.fractalmirror.net/index.html
Facebook: https://www.facebook.com/Fractalmirrormusic/