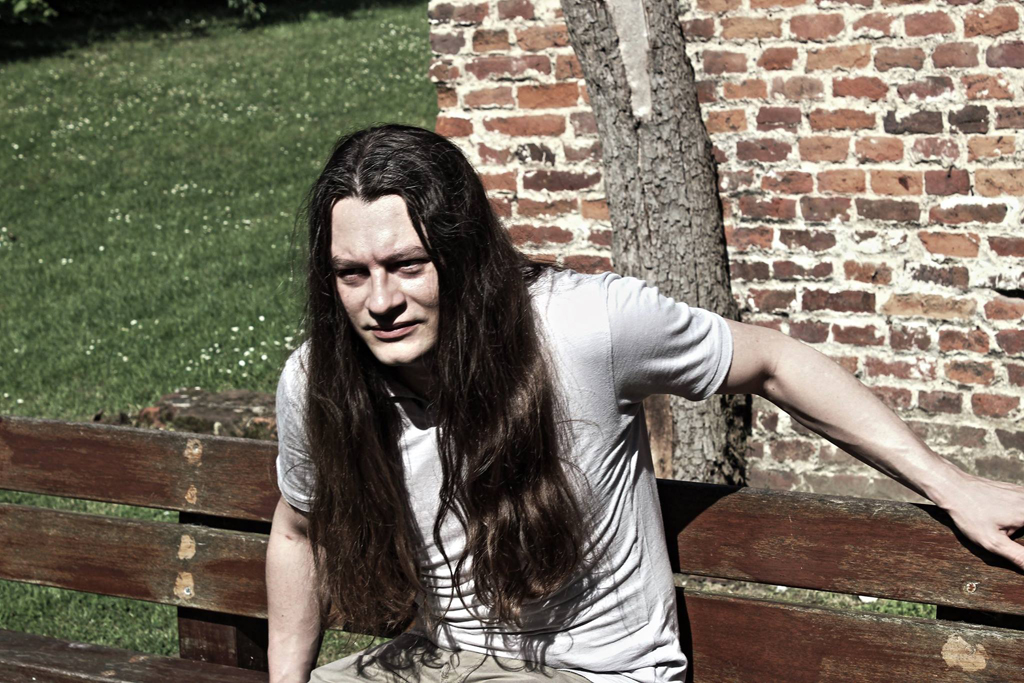 The project takes its roots from 2003, when it has been initially founded by singer/multi-instrumentalist Hamlet. Musically Transport Aerian tends to change drastically from album to album, but generally, it has always been covering a wide range of genres, from dark-wave to different, sometimes quite avant-gardist sorts of progressive rock, supported by deeply personal, often disturbing lyrics. After years of live shows and accumulating the material, in his own recording studio, Hamlet began working on a conceptual album titled: 'The Dream', which was released in 2007.
The album came out to be a dark and gloomy mix of progressive rock, trip-hop, ambient and industrial music and gathered quite positive response in local press. Front that time on, Hamlet mostly records all the instruments himself, following the philosophy of strictly individualistic music making approach, although he does collaborations with other artists if the music requires such and has had various live bands supporting the releases.
After a complicated twist of faith, the project has found itself in Belgium in summer 2008, where the work on a new conceptual album has started. This album, under the title 'Blessed' was released several months later, musically following the same direction.
In 2010 after a certain amount of concerts and a tiny-scale Belgian tour, the album Charcoal was released, as the very first Transport Aerian album having the musicians from Hamlet's that time live line up present on the album, which made its sound slightly more variable and less authentic, yet it became much more experimental, empowered by other musician's minds and skills.
Later the same year, however, to the surprise of the slowly growing follower base and generally positively acclaimed studio and life efforts, Hamlet has put Transport Aerian to an extended hiatus, as he was invited to guest in a couple of active local level projects and one international studio project Fabulae Dramatis, whose debut album he has produced.
After 3 years of silence, Transport Aerian was announced to be coming back to life with a brand new album, Bleeding, which was released in august 2013. The album appeared to be on the whole new level of both quality and recognition, as it has landed the project into a tight and colorful rooster of grass-roots label Melodic Revolution Records, based in Orlando, Florida, so Transport Aerian has become a second Belgian band on this label, after authentic proggers Murky Red.
Bleeding has been later reissued as 24-bit high-resolution remaster. In 2014 Hamlet experiments with playing live with only two-piece band, extensively using looping techniques and electronic devices. The results have been captured and released as a live compilation Love.Blood.Live, containing both material from Bleeding, some instrumental pieces by band's most permanent member guitar player Stefan Boeykens, and a few of songs from older incarnations.
In 2015 another drastic change in musical direction occurred, as Hamlet announced the start of working on a conceptual album with a female voice, who was later revealed to be Rachel Bauer, an inspiring mysterious singer and visual artist, who would as well work on this and further album's visuals and record a various remixes of project's older songs. The album came out under the title Darkblue and has received a very positive critical response, appearing in top 100 progressive rock albums of the year and remaining in top 50 of world's biggest progressive rock network Progarchives for more than 4 months in a row.
In 2016 Hamlet has announced working on the new project under the name of Therianthrope/Abstract Symphony, featuring 10 guest musicians, including a lot of experimenting and aspiring artists, such as Paul Sax (Curved Air) and Elvya (Ayreon), Marco Ragni, Peter Matuchniak, Darren Brush, and many others. The album includes a unique experiment, based on blind improvisations by the team of guests, based on given abstract themes and deals with such themes as mental struggles in the expanding and rapidly accelerating modern world. The concept album containing both conventional songs and Abstract Symphony's blind improvisations is to be released with the limited-edition package in November 2017.
Transport Aerian is always changing and shifting its live and studio experiences depending on what the current creative state demands, performing drastically different kinds of music, yet always staying in the shape of poetic, sharp-edged artistic kind.
The project's philosophy is closest to those, calling themselves expressionists in poetry and fine arts, therefore, the inner side of the emotional expression is what Hamlet intends to bring through project's music to whoever who is willing to hear the word said.
Website: http://transport-aerian.com/
Facebook: https://www.facebook.com/transportaerianproject/