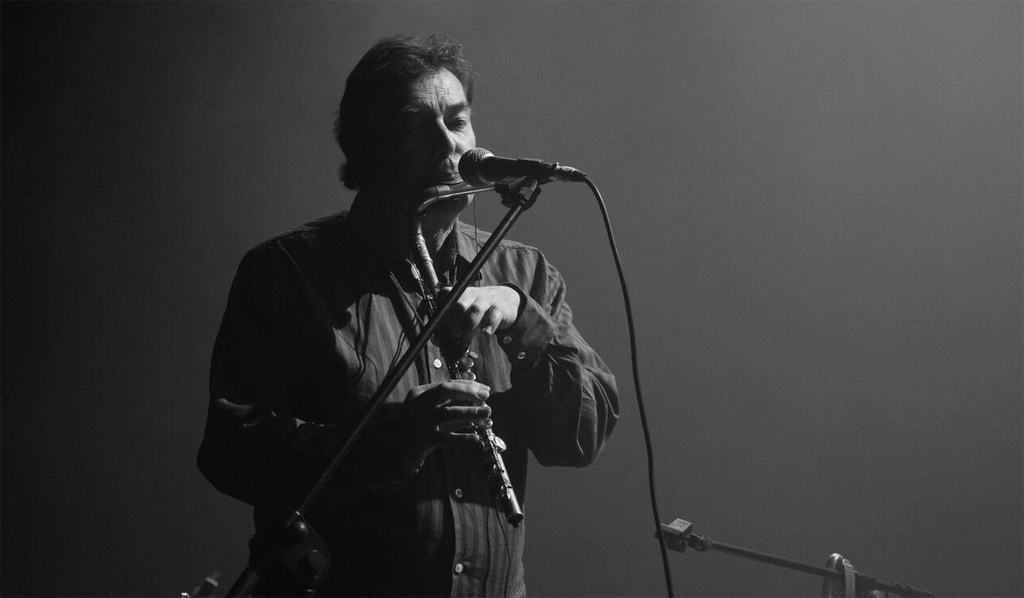 Best known for his work alongside his brother, Steve Hackett (Genesis), John brings his four-piece rock band with Nick Fletcher, Jeremy Richardson and Duncan Parsons. They perform songs from John' s rock albums ' Checking Out Of London' and ' Another Life,' plus new material by band members.
John Hackett– Vocals, Guitar, Keyboards, Flute (www.hacktrax.com)
John is known for his distinctive flute sound in the world of progressive music and as an accomplished soloist. Solo flautist, guitarist, singer and composer, John collaborated with his brother Steve Hackett, the former Genesis guitarist, on his early albums, Voyage of the Acolyte and Please Don' t Touch, along with further recordings and tours of the UK, USA and Europe, playing guitar, flute, and bass pedals. As a singer/songwriter, his first rock album Checking Out of London was given 5 stars in Record Collector magazine. His most recent rock album, Another Life, with lyrics by Nick Clabburn and produced by Nick Magnus, was released in 2015 on Esoteric Recordings (Cherry Red). It features Steve Hackett on lead guitar, with a special guest appearance by founding Genesis guitarist Anthony Phillips.
Nick Fletcher– Lead Guitar (www.nickfletcherguitar.com)
Nick Fletcher has had a very varied career as a guitarist. His earliest influences were guitarists from the 50' s, 60' s and 70' s such as Hank Marvin, Scotty Moore and later Jimmy Page, Jan Akkerman and Steve Hackett(!). He studied Classical guitar at the Huddersfield School of Music from 1978 to 1981.
From 1981 to 2007 he was primarily engaged as a session guitarist and played in various Jazz fusion bands. He also was a record producer and produced many Celtic and world music recordings. Since 1995 Nick has also become known as a Classical guitarist and composer. He has written a guitar concerto along with Iona' s Dave Bainbridge and has had over 60 compositions for the classical guitar published by productions d' Oz Canada.
Nick' s music has been played many times on Classic FM and he has performed live on BBC Radio 3' s In tune. He has released 8 solo guitar CD' s, two more as part of the long standing ' John Hackett & Nick Fletcher flute and guitar duo' and a world music CD with Chinese Erhu player Ling Peng. In 2015 Nick' s love of the electric guitar was re kindled after being invited to join the John Hackett Band.
Jeremy Richardson– Vocals, Bass, acoustic and 12string guitars (www.soundcloud.com/jeremy-richardson1)
"Life has had many corners for Mr Richardson, and his music reflects that. He moves from pop to neo-classical to showtune to downright obscure. Never one to turn away a melody, his craft is one that follows many directions. Arguably this is true prog – a melting pot for music: get whatever is to hand, chuck it in, and see what comes out. Think of Family and Stackridge, rather than Yes and King Crimson. Jeremy hails originally from the south-east of England, and after many tribulations lives as an ex-pat Englishman in west Wales. Musically, his roots are diverse – raised listening to Salvation Army bands, music was always readily at hand. He travelled new romantic punk (via Adam and the Ants) and early 80s chart music, until discovering the progressive/art rock of Genesis, King Crimson and others. '…was it for this?' is his debut album, which presents literate, insightful and emotional music for our times; taking in almost as many styles are there are tracks, giving a great richness and variety. Writing on guitar and keys, and singing both in and out of his comfort-zone, J.R.C.Richardson brings more to the table than most."
Duncan Parsons– Drums, Vocal, Triangle (http://duncanparsons.roughdraftaudio.com)
If he's honest, Duncan started playing drums because Jeremy (our bassist) suggested it.. After some tuition from Bill Bruford he set out in search of musical work. Through the 90s he appeared on 9 albums, wrote and performed works for theatre and multimedia productions, and played live with anyone who would let him – most frequently with Marc Catley's band Paley's Watch, Marianne Velvart, and Judith Silver. After over a decade away from public performance he returned to active duty releasing various solo works starting with 2012's Abandoned Buildings. His recent album C:Ore united alumni from Genesis, Isotope and Camel in a rousing soupcon of progressive music.
Website: http://www.hacktrax.com/
Facebook: https://www.facebook.com/JohnHackettBand/