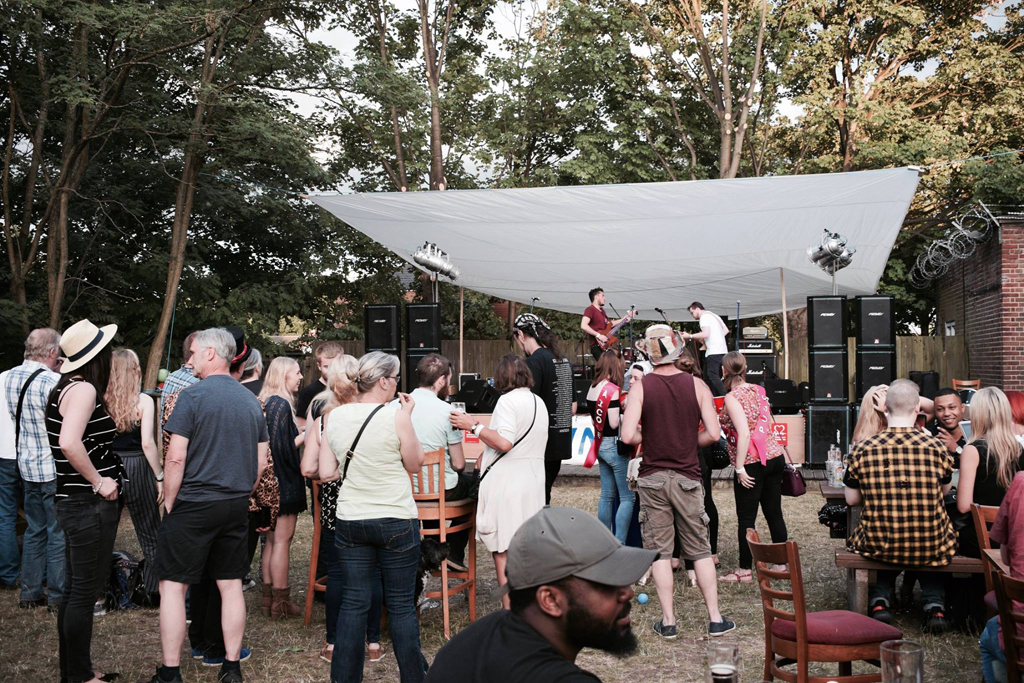 Effigy For Sleep are a technical rock trio based in Stourbridge West Midlands with band member ages ranging from 19 – 21. Each member of the band are very musically focussed being multi-instrumentalists and having studied and performed music for a number of years. Calvert Stephens and Sam Baldwin met playing in a regional youth jazz band but had had never delved into writing music together, until recently. Calvert and Tom Johnson however have always sustained a long friendship throughout college and wrote music on a regular basis playing as a duo for a number of years. In the summer of 2014 Calvert and Tom asked Sam to join them as the guitarist for Effigy For Sleep. Initially the group bonded by exploring each other's musical influences and playing covers and pre-written material by Calvert and Tom. However, within a year the three members established their own technical rock genre combining chaotic chromatic riffs, soulful melodies and complex syncopated rhythms. To date Effigy have headlined numerous local Midlands venues including 02 Academy Birmingham, The Flapper, River Rooms, The Sun Flower Lounge and played events including Oxjam music festival and Thunder Valley Rocks TV competition.
Like most young bands, Effigy have played a wide range of gigs, some to hundreds of people some to just a handful. However, the energy in the performance is always the same. Effigy give their all at every gig and there is always something to learn from each performance, large or small, its part of the journey that helps the band to develop. Effigy's most exciting gig has been the Giants Tears album launch, "it was extremely rewarding seeing fans from the West Midlands travel to join us at our favourite local venue 'ClapTrap', It was a great start to the journey of the album, the CD's sold well and the online status of the record is on the rise helping us to gain new fans and followers.
Effigy For Sleeps latest album 'Giants Tears' was produced and recorded by guitarist Sam at Birmingham Conservatoire where he is undertaking a BMus in Music Tech. The album took about a year to write, record, mix and master. Having band members who can record and produce (Tom is also studying music tech) allows the band to have complete creative freedom with the sound of the record. Whilst all of the music is written equally by the three band members, Calvert takes a lead on the lyrical content, Tom focusses on the solid but complex rhythms and structure and together Sam and Calvert create the complex riffs and harmony.
Effigy For Sleep take influence from a range of genres including rock, djent, ambient music, math and progressive. "Its fair to say that we all influence each other's playing styles, we find that a healthy amount of competition between each member is good to push the boundaries of our music." Effigy share a love for a range of bands like Karnivool, Sikth, Biffy Clyro, Snarky Puppy and Toska and aim to see as many live bands as possible.
On first listening of Effigy you can't predict the way the music will flow, this is characteristic of their progressive style. Effigy's USP is the juxtaposition of Calvert's soulful vocals with complex and aggressive instrumentals and zany polyrhythms. "We've always appealed to heavier genres of music but feel that there are lot of other styles we that can incorporated– we don't want to pigeon hole ourselves." Effigy aim for a distinctive and wild sound with energetic live shows.
Effigy For Sleep is now focussed on securing a slot at festivals like ArcTanGent, UK Tech-Fest and Download as well as larger capacity venues helping the band create a bigger social media platform. Touring is high up in their aspirations as well as getting their music out to a more defined target audience, "we want to push the boundaries of technical rock".
Facebook: https://www.facebook.com/effigyforsleep/